Here are a selection of diagrams for my origami models. Click on the link next to each to open up or save the diagrams in pdf format. I am particularly pleased that the British Origami Society has published 4 booklets of my folds, so have listed the models available in these booklets, and would obviously recommend you purchase these booklets from BOS Supplies – available via the BOS website.
Click here for a list of all my origami creations to date, with details of date created and where they have been published. Many of my models have seen the light of day in British Origami Society (BOS) convention souvenir booklets, or have been published in the BOS Magazine, and some have been published in books.
I hope to add diagrams for more of my creations onto this web-site in due course. If you would like diagrams for one of my designs that is not yet on this web-site, nor in one of my booklets, by all means contact me.

Happy folding!
Tony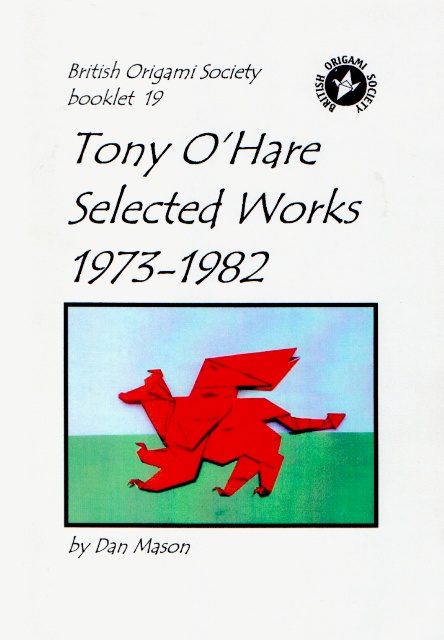 Models in this booklet are:
Welsh Dragon, Hen, Beaver, Caterpillar, Frog, Scarecrow, Tyrannosaurus Rex, Brontosaurus, Nude, Robin, Winnie the Pooh, Conductor, Peacock, Crocodile, Seal on a Rock, Swan, Landing Falcon, 8 Point Star, Fish Tessellation, Jigsaw Piece.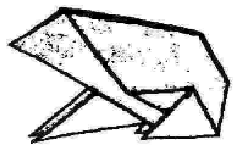 Frog
Frog - page 1 One of my all time favourite simple animals. Published in Nick Robinson's book "Super Quick Origami Animals".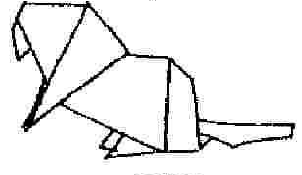 Beaver
Beaver - page 1 One of my early animals, in caricature or cartoon style. I use the base (first few folds) for other animal folds also e.g. fox, horse.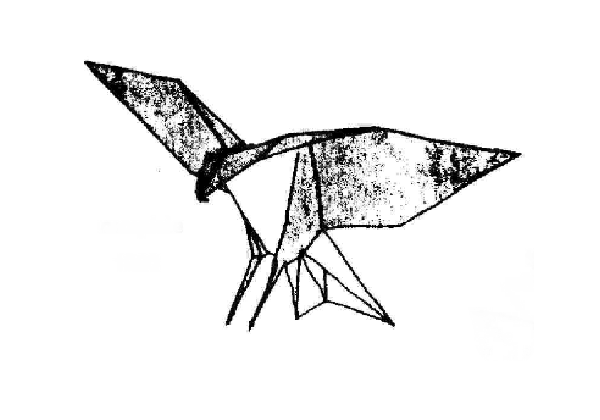 Falcon
Falcon - page 1 I particularly like the fact that this is a 3-D model and captures the essence of the falcon.
Nude
Nude - Nude This "model" was featured on page 3 of the BOS Magazine in 1977, suggested at the time to be trying to rival popular tabloids! Featured on Channel 4's "Kirstie's Handmade Britain" in October 2011. These instructions are from my original booklet, but watch out for some newer revamped ones shortly.
Shipshape & Bristol Fashion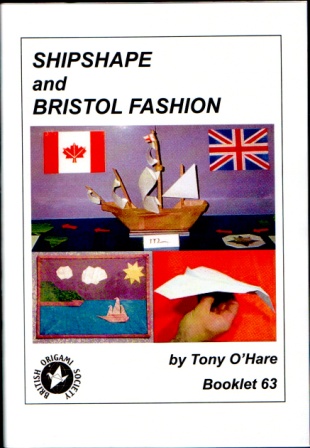 Models in this booklet are:
Man in a Rowing Boat, Dolphin, Three Mast Ship, Yacht, Simple Fish, Speedboat, Sun, Clouds, Headland, Simple Angel Fish, Jaws, Bottle, Boat Stand, Round the World Catamaran, Clifton Suspension Bridge, Maple Leaf & Canadian Flag, The Matthew, The British Isles, Union Jack, The Americas, Hot Air Balloon, Sailboat & Stand, Concorde.

Jaws
Jaws - page 1 This shark involves just 4 valley folds to make (plus a bit of biro for the teeth). Created as a result of a challenge in the BOS magazine to design folds from 5 or less valley or mountain folds.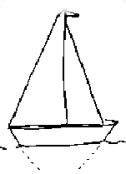 Yacht
Yacht - page 1 Put a 1p piece or coin inside the hull, and the yacht will float upright in water.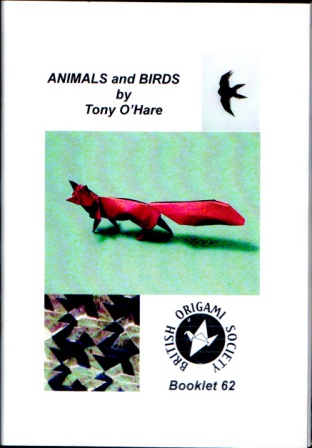 Models in this booklet are:
Swallow, Pig, Fox 1, Dog, Resting Owl, Horse, Broody Hen, Penguin 1, Puma, Cat, Snail, Bird in Hand, Chaffinch, Hedgehog, Dachshund, Dragonfly, Escher Swans, Wren, Blackbird, Sparrow, Penguin 2, Fox 2, Parrot in Flight, Mouse (Simple) 1, Long-tailed Mouse, Mouse 3, Butterfly, Crow, Flamingo, Robin, Scrap-paper Rabbit, Elephant's Head, Sheep.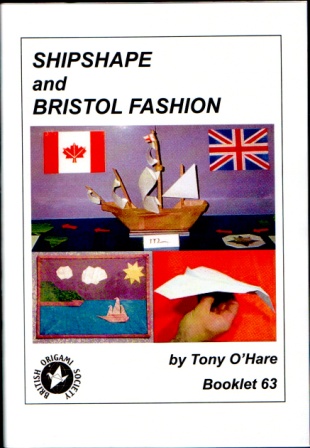 Models in this booklet are:
Victorian Lady, Merlin, The Great Pyramid, Star Box, Football, Footballer, Leek, Maggie & Ron, Yin & Yang, Charles & Di, Pitcher, Heart (inflatable), Teddy Bear, Martial Artist 1, Martial Artist 2, Picture Stand, Name Plate, Eric Cantona, Heart Frame, Guitar, Baseball Cap, Mr Smiley.

Maggie
Maggie - page 1 Part of the double act Maggie and Ron who were big news at the time...you can find diagrams for Ron on Nick Robinson's Origami Fun site.
More diagrams - Fun folds, action models, recent creations etc: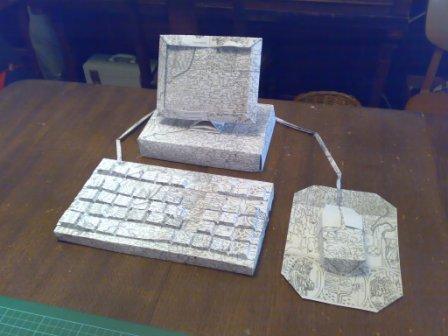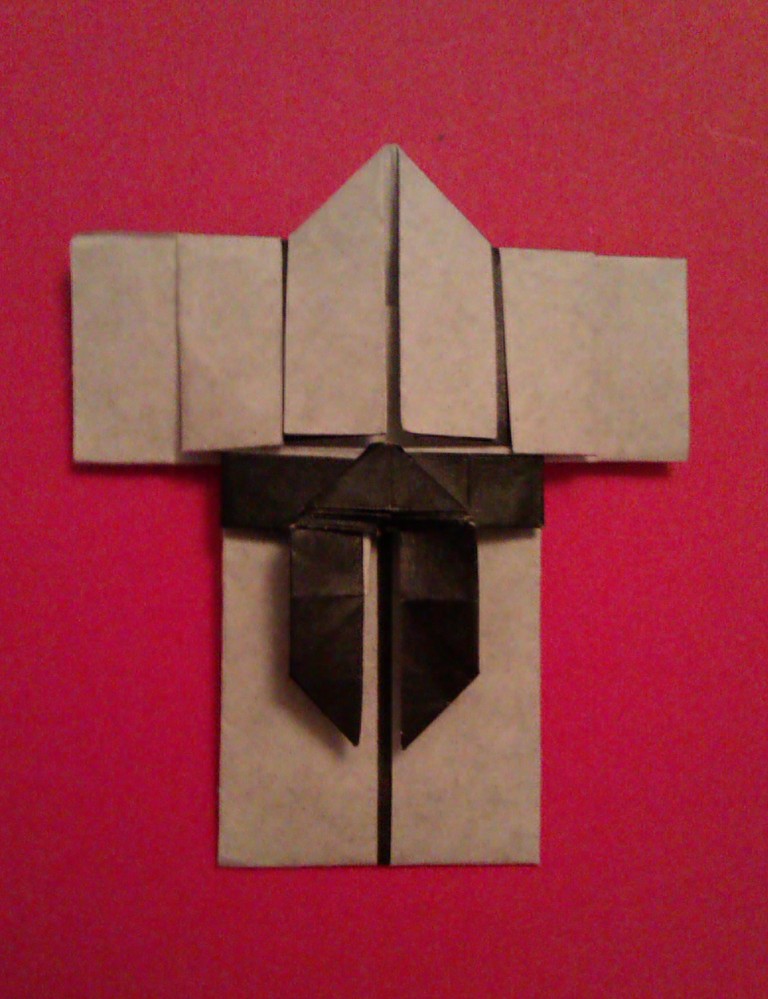 Origami Blackbelt
A variation of the traditional Kimono design, based on a common response when you tell someone you do origami "so are you a blackbelt?" Well, now you can prove you are!