Favourite Folders & Links
Just like in any other art, sport or hobby, I have my origami heroes. When I first discovered origami as a young lad, Robert Harbin was the main public figure and book-publisher. Included in his early books were models by origami greats such as Akira Yoshizawa, Neal Elias, Pat Crawford, Ligia Montoya, Fred Rohm and many others. These remain as big influences on what gives me a buzz about origami. Many of my favourite models are of subjects from nature – as reflected in many of my creations since then.
Compared to the origami designs back then, some of the work of more modern folders – for example Frenchman Eric Joisel's mermaid below – are almost sculpture-like.
But I also enjoy many other types and styles of origami, such as clever, novelty and action models – like jumping frogs, flapping birds, fortune tellers etc. Giles Towning's wonderful "zip" opens and closes just like the real thing!
Here are some of my favourite folders' work – photos and links to their web-pages.
I will add more of my favourite folders and models as time goes by….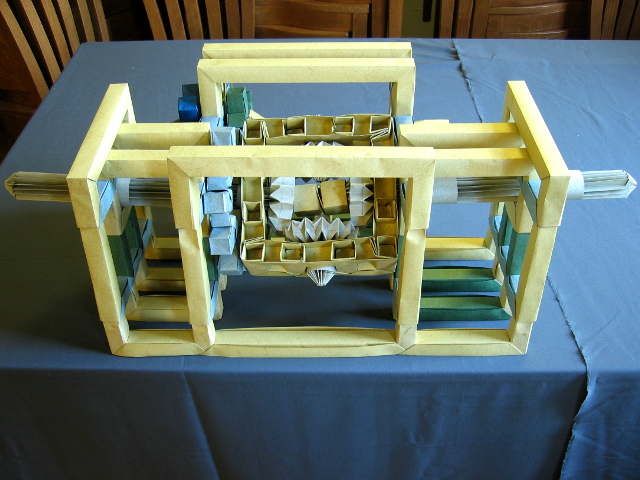 Giles Towning (UK)– one of the UK's most interesting and inventive (and funny) current creative folders. The "Differential" is a working machine with all he moving parts made from paper. Click on the photo above to see a video of the Differential plus Giles' Zip in action.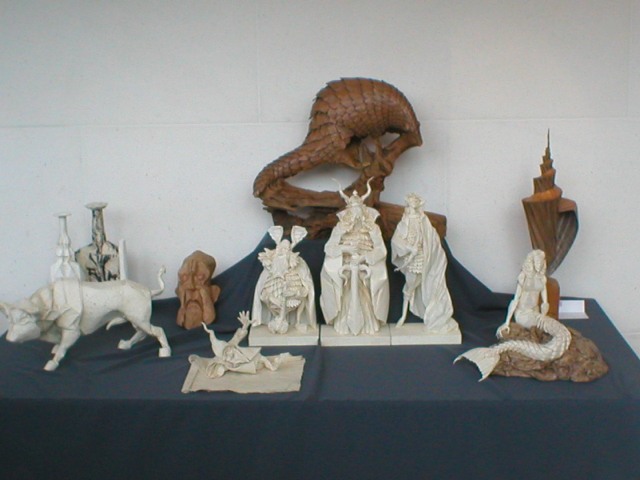 Eric Joisel (France) – the picture to the left is part of Eric's display at the BOS's 40th Anniversary convention in Cambridge in 2007. He has made origami into a total art-form with his wonderful 3-D figures. Find out more on his website.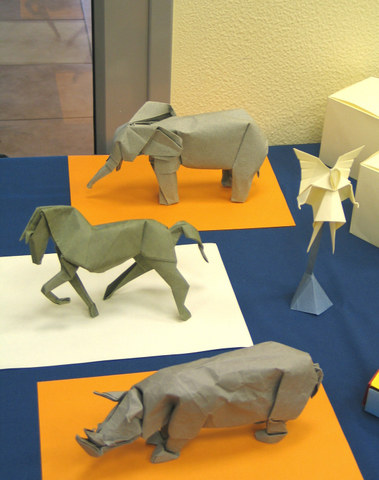 David Brill (UK) – Dave has created some of the most aesthetically pleasing animals & human figures, and geometric and other designs. Check out his wonderful book "Brilliant Origami" and website.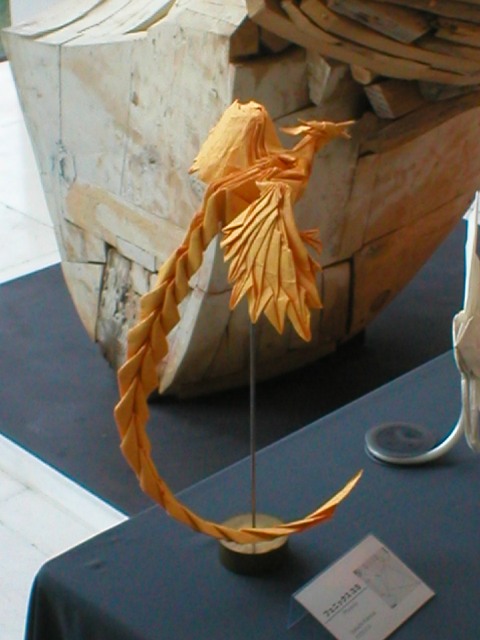 Satoshi Kamiya (Japan) – amongst the many fine young creative paperfolders from Japan, Satoshi manages to combine highly complex folding techniques with a fine artistic and sensitive eye. Creations such as his Phoenix (pictured here) are good examples. His book "Works of Satoshi Kamiya 1995-2003" contains some fantastic folds. A review of this book can be found here.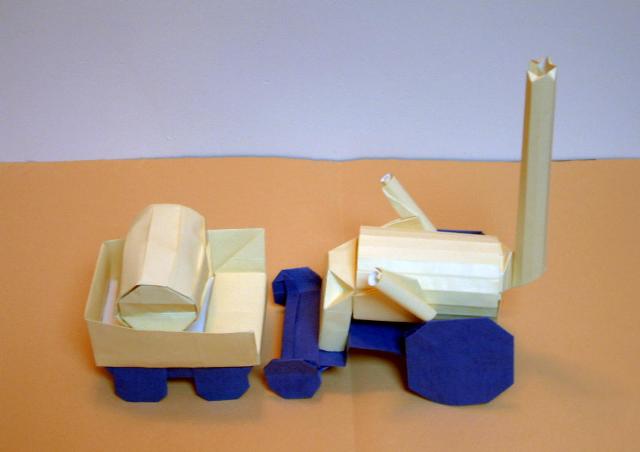 Max Hulme – Max seems to have endless supply of creative energy & ideas, and seems to get better all the time. His famous Stephenson's Rocket (left) is an all time favourite of mine, and his recent creations, such as this group of angels, show again an artistic eye to combine with his technical excellence. More about Max can be found on the BOS website.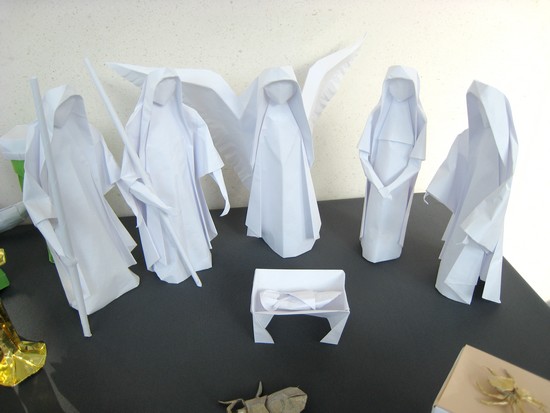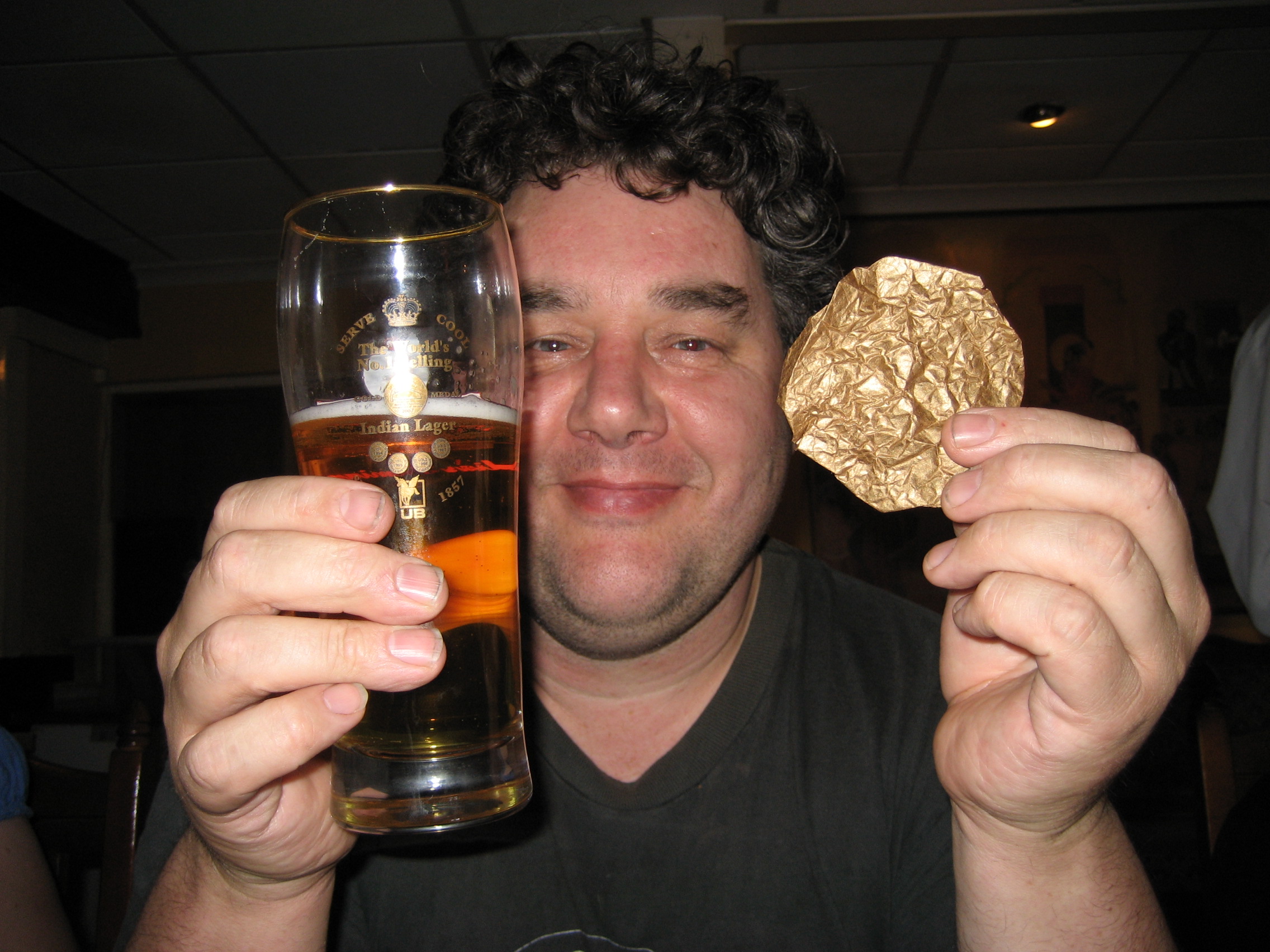 Nick Robinson (UK) – a man who definitely sees the fun side of origami – as some of his book titles – such as Bar Stool Origami & Adult Origami – demonstrate. But Nick is also a deep thinker about origami, and a great admirer particularly of Hong Kong folder Philip Shen. Creator of many excellent simple models, that make origami accessible to the beginner, and now a well-respected author and editor of origami books. He is also a founder member of the Popadom origami club. Check out Nick's website for more info.