Public Events & Exhibitions
Taking part in public exhibitions and events in both the UK and abroad is a great way of publicising origami. Many people we meet don't realise that there is an origami society in existence, and when I say that we've been around for over 40 years, they're often very surprised (some people think we folded many years ago….!).
I am currently serving as Chair of the British Origami Society (BOS). If you're looking for someone or a group of people to take part in a public event, exhibition or display etc, or if you're looking for Workshops or Commissions, see the Need a Folder page on the BOS website or use the Contact page to send a message.
Below are some of the events I've had the pleasure of being involved in over recent years: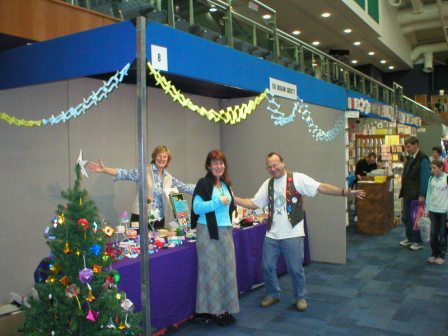 With our local origami group, running a stall and workshops at the Taunton Flower Show in August 2008. We will be there again in 2009.
With our local origami group again, running a stall and workshops at the Craft4Crafters shows since 2005. The main photo above is from the Cheltenham show in 2005.
Contributing to the "Human in Origami" exhibition in Poland in 2004.
With the local origami group organising a series of origami workshops for schoolchildren in Bridgend, South Wales in October 2001, as part of the "Washi – The Papermaker's Art" event run by local papermaker & artist Elaine Cooper. The event was part of the Japan 2001 festival & involved over 2000 children over a 2 week period.
Folding 1,000 traditional Japanese paper cranes – sembatsuru at the 1999 West Wiltshire Show with members of the South West Anglo-Japanese Society;
Teaching and displaying origami at the Millennium Dome in London in July 2000 as part of the Japanese Exchange Teachers' Alumni Association (JETAA) Natsu Matsuri or summer festival, part of the Dome's "World Town Stage" community events;
Organising a Guinness World Record Paper Plane Competition at British Aerospace, Filton in September 1999 as part of The British Origami Society's Autumn Convention;
Organising and assembling a display of origami on a maritime theme – boats and sea-creatures – at the Bristol Central Library in 1997 as part of the Cabot 500 festival. This included an origami "Matthew" – the ship that John Cabot used for his voyage from Bristol to Newfoundland in 1497;
Organising and assembling, with our local origami group, a display of origami dragons at the Museum of East Asian Arts in Bath during April/May 2000 – The Year of the Dragon;
Organising origami stalls and displays at "Japan Days" including Plymouth, Bristol & Cardiff and many others;
Contributing to and attending overseas origami displays, included the South Eastern Origami Festival in Charlotte, North Carolina, USA in September 2000 and the "Paris Origami" week-long festival at the Carousel de La Louvre in April 1998.